Good Tuesday Sports Fans (and also fans of no sports)...
DISTRIBUTION: THE NEW (ISH) KIDS ON THE BLOCK
Today I'm continuing the look at distribution companies and their potential relationship with and effect on this year's 43rd Telluride Film Festival. Specifically today we focus on some relative new players in terms of distribution and Telluride. We look at 2015 participants A24, The Cohen Media Group and Netflix and we'll also look at Amazon, who didn't play in 2015, but which I expect will have some presence at The SHOW this year.
A24
If there is any independent minded distribution outfit that hustling as hard as Amazon seems to be it's A24. A24 wasn't new to Telluride last year. They've had Ginger and Rosa in 2012 and Under the Skin in 2013. They weren't there in 2014 but were back with Room last year and they had to be pleased with how that turned out-four Oscar nominations with the win for Brie Larson as Best Actress and noms for Best Picture and Director.
And A24 has a full plate of possible films that have the potential to play Telluride. I'm thinking that they turn up with more than a single film this year...maybe three or four.
What are they?
Moonlight
American Honey
How to Talk to Girls at Parties
20th Century Women
Free Fire
Chances for each look to me like this (as of this post)
Moonlight 80%
American Honey 70%
20th Century Women 50%
How to Talk to Girls at Parties 30%
Free Fire 20%
COHEN MEDIA GROUP

CMG has two films that could make the lineup and after having been the only outfit to land three films at TFF #42 (Marguerite, Hitchcock/Truffaut and Rams). It wouldn't surprise me if both made the grade. CMG also had Magician at TFF in 2014 and The Attack in 2012.
So...the chances...
The Salesman (from Asghar Farhadi) 85%
A Journey Through French Cinema (From Betrand Tavernier) 60%
I also wonder if CMG might make a play for some as yet unattached film either by itself or in conjunction with Amazon with whom they are partnered on The Salesman.
NETFLIX
Netflix made a splash at Telluride in 2015 with both Beats of No Nation and Winter on Fire and along with Cohen Media Group was the only other outfit that had more than a single film make the TFF #42 lineup. It was Netflix's first foray into Telluride. Now, this year, the questions are, do they want to come back and do they have a property or properties that will pique Telluride programmers' interests.
Those are two tough questions. I get the sense that the aggressiveness of acquiring films by Amazon and A24 may have limited Netflix this year. I have no evidence for that. It's just an observation of the playing field, the properties and who has picked up what.
Realistically, it looks to me like their only possible player is David Michod's War Machine starring Brad Pitt, who is also producing with his Plan B Entertainment, and even then, I'm a little skeptical.
Plan B, it should be noted, is also backing other TFF #43 possibles Moonlight and The Lost City of Z and was part of the backing for 12 Years a Slave (TFF 2013 and a Best Picture Oscar winner).
Chances of War Machine at TFF #43 35%
AMAZON
The newest players in the distribution game didn't line up well for Telluride last year so 2016 is really going to be their first run at making the lineup. They had a particularly noteworthy splash at Cannes in May as they had five films make various portions of that fest: Paterson, Gimme Danger, The Neon Demon, The Handmaiden and The Salesman. Amazon also has Kenneth Lonergan's Sundance hit Manchester-by-the-Sea.
Honestly, I'd be very surprised if Amazon didn't have a presence at TFF #43. Their footprint at Cannes announces them as major players and further, the fact that long time Telluride participant Scott Foundas is a part of the acquisition team at Amazon says to me that they'll want to be playing in the San Juans over Labor Day weekend. So...
Among those films Farhadi's Salesman seems like an almost certain play (#1 on last week's Ten Bets #2). The fact that Amazon has partnered with the Cohen Media Group for theatrical distribution for The Salesman is another indicator that Telluride is a probable destination. Additionally, word was out yesterday that The Salesman will open in the U.S. on Dec. 9th.
Neon Demon has already opened and Manchester's Sundance appearance means that T-ride would have to make an exception and my guess is that if they do that it'll be more likely that Birth of a Nation would benefit before Manchester. I'm also dubious that Telluride would make more than one exception in a single year.
Finally, though it could play, I don't sense a Telluride vibe for Gimme Danger, at least at this time.
Of the two remaining films Paterson might be more probable that The Handmaiden but neither film has an announced distribution partner like The Salesman.
The chances:
The Salesman 85%
Paterson 50%
The Handmaiden 30%
Manchester 20%
Gimme Danger 20%
Tomorrow, we'll begin looking at the last group of a half a dozen or so distributors who have been at Telluride over the years in a hit-or-miss capacity.
SALESMAN NEWS
As I mentioned above, Asghar Farhadi's The Salesman has been dated for a Dec. 9th U.S. release. In addition to that we also found out that the film won the international film prize at this year's Munich Film Festival over the last weekend. Variety reported on the win:
http://variety.com/2016/film/global/asghar-farhadi-the-salesman-munich-film-festival-1201808237/
POSTER FOR STAYING VERTICAL
Over the weekend The Film Stage reported the revealing of an official poster for Staying Vertical. The film played in the Palme competition at Cannes in May. Here's a look at the poster: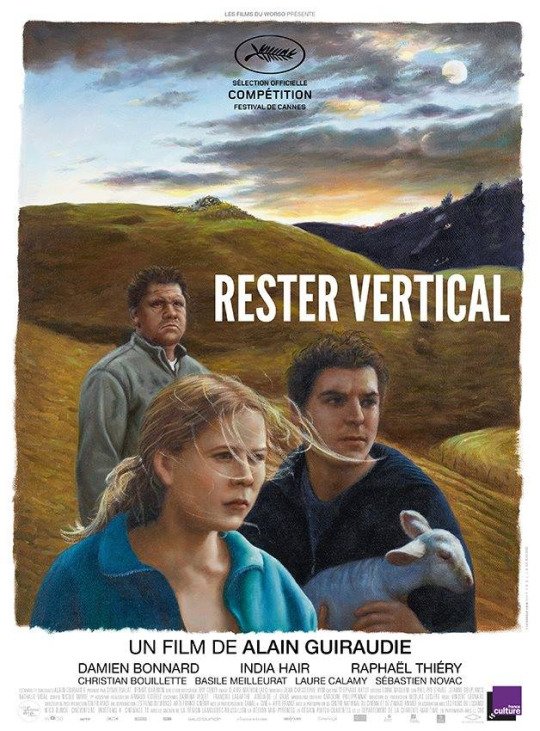 Staying Vertical will be distributed by Strand Releasing.
That's it for Tuesday. Come back tomorrow...
Contact MTFB at:
mpgort@gmail.com
OR on Twitter @Gort2
OR check out Michael's Telluride Film Blog on Facebook:
OR leave a comment...