Hello Thursday...Wednesday was a busy day and night at the MTFB Ranch...
It's unusual to have two big Telluride related stories break the same day...and then a third...but it happened yesterday. We'll start with the last one first...
TORONTO CHANGES COURSE...SORT OF...
Scott Feinberg broke the story late yesterday afternoon at The Hollywood Reporter: The Toronto International Film Festival was backing down and reversing its premiere policy that they established last year and which was clearly aimed at Telluride.
Feinberg reported that TIFF will allow films that play Telluride to play during the first four days of their fest but with a caveat: NOT IN ANY OF TIFF'S THREE LARGEST VENUES.
So film makers still have a price to pay should they opt to play T-ride prior to a TIFF presentation.
Feinberg's post:
Left uncertain was whether TIFF would continue their "honest premiere" status in terms of categorizing the films they chose to play.
That uncertainty was addressed in a post from Steve Pond of The Wrap a bit later in the day. The Wrap reporting that TIFF will retain that portion of their policy. Of course, to place films in a smaller venue or later in their week, they'd still need to require film maker's disclosure about whether the film was going to appear at Telluride and The Wrap story indicates that TIFF will continue to announce that actual status when they announce films for their lineup.
Pond's post:
Many in the media reported it as a "reversal" and I suppose, strictly speaking it is. To me it seems rather more insidious than the original position TIFF took last year. T-ride films still get "punished" with relegation to smaller venues or later in the TIFF schedule and they still have to reveal their Telluride plans. Further, TIFF comes off looking as if they have "backed down". Pete Hammond of Deadline.com called it "clever", seeming to agree with my feeling here.
And many could fairly say, vis-a-vis the "honest premiere status", "Come on, Mikey, that's exactly what you do." And that makes some sense...sort of.
What I actually have done, up until last year, was detective work, guess work...
Last year's and now this year's TIFF policy allowed anyone to easily deduce a number of films that would play Telluride and many much bigger media fish than I did just that.
I think it's fundamentally a different animal all together for me to scurry about and out bits and pieces together and make some educated guesses as opposed to the spoiler party that TIFF announcements brought and will bring.
That's my take anyway...
Here's reporting on the new TIFF policy from Variety and The Guardian:
LAURENT DURIEUX IS YOUR TFF #42 POSTER ARTIST
Normally, this would have been your MTFB lead today...The announcement came via email yesterday morning. We have poster artist and we have a poster AND IT IS COOL: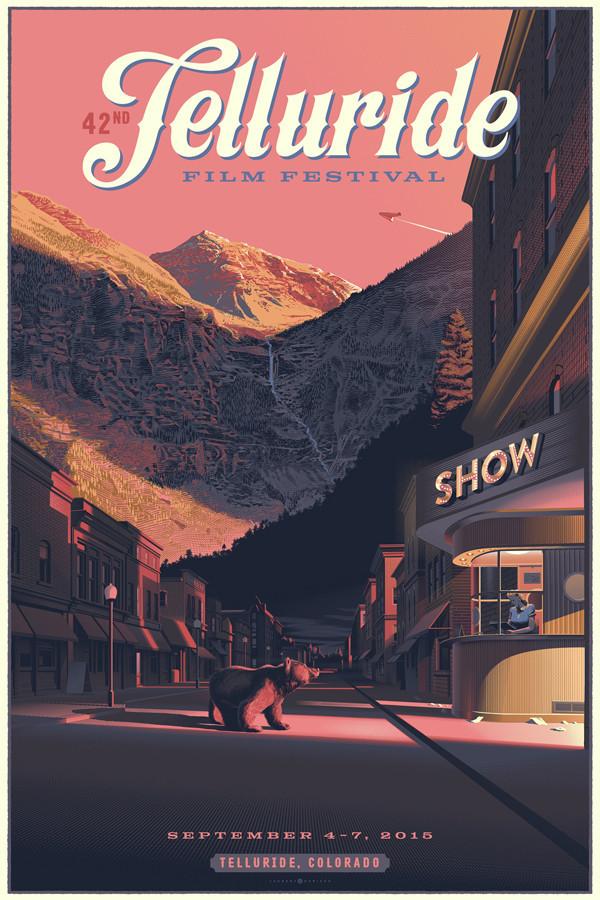 Here's the actual announcement from the Telluride FIlm Festival:
42nd Telluride Film Festival presented by National Film Preserve LTD., proudly announces illustrator Laurent Durieux as its 2015 poster artist. Telluride Film Festival's prestigious annual gathering for film industry insiders, cinema enthusiasts, filmmakers and critics takes place every Labor Day weekend in the picturesque town of Telluride, Colorado. The 42nd edition of TFF will run September 4 – 7, 2015.
Laurent Durieux was born in 1970 in Waterloo, 20 km from Brussels in Belgium. Laurent has been an illustrator and a graphic designer for over 20 years, and when he doesn't teach graphic design, he spends most of his time creating posters for movies, old and recent. In 2010 he directed his first short animated movie titled HELLVILLE for Canal+ France produced by renowned French director Jean-Jacques Beineix (Betty Blue, Diva, IP5). Laurent has since taken part in many shows in Belgium, France and in the USA. Laurent's posters can be found in several prestigious cinema related institutions such as the Academy of Motion Picture Arts and Sciences in Hollywood or the Cinémathèque Française in Paris, France as well as many worldwide private collections. After his first retrospective exhibition in France last year, Laurent has been invited to present his work in an individual exhibition, which will be held at the Cultural Centre De Warande in Turnhout, Belgium this June 2015.
"It's a great honor for me to have been asked to design this year's poster for the Telluride Film Festival," said Durieux. "To be associated with so many great names of graphic design and fine arts is, on its own, something I will cherish for a very long time. I am a big cinema enthusiast too and as such, it certainly was a thrill to work on a poster for a film festival of this calibre. My image for the poster is a tribute to the work of the great Edward Hopper whose work, like mine, is very cinematic. I came up with what I hope to be my own take of his painting, New York Movie (1939), by giving it a surreal twist and a dash of modernity to it. The way Hopper used shadows and lights has had a big influence on my work in general and he certainly has on this poster. I love nature too and so, naturally, I look forward to attending the festival and discover all the wonderful things this place has to offer!"
"We first noticed Laurent's work when he created the art for Criterion Collection," commented Telluride Film Festival executive director Julie Huntsinger. "DVD jacket and one-sheet design is an art-form unto itself; capturing the mood of the film with one image. Laurent has done the same with this year's poster. He's managed to conjure the feeling and atmosphere of Telluride Film Festival with one breathtaking shot. It's simply stunning."
Durieux joins a prestigious list of artists who have shared their talents with Telluride Film Festival. Past poster artists include Christian Marclay, Dean Tavoularis, Ed Ruscha, John Mansfield, Julian Schnabel, Dottie Attie, Doug and Mike Starn, David Lance Goines, Chuck Jones, David Salle, Alexis Smith, Jim Dine, Seymour Chwast, Frederic Amat, Francesco Clemente, Dave McKean, Gary Larson, Chip Kidd, John Canemaker, Mark Stock, Laurie Anderson, William Wegman, Ralph Eggleston, Maira Kalman and Dave Eggers.
42nd Telluride Film Festival posters will be available for purchase throughout the four-day Festival or by visiting the TFF website at

www.telluridefilmfestival.org

.
"SUFFRAGETTE" HAS NEW TRAILER AND OPENS LONDON FEST (PLUS OTHER CLUES)
The Sarah Gavron film "Suffragette" was all over the interweb yesterday with the announcement that it would open the BFI London Film Festival the first week of October. That announcement coupled with the above mentioned poster announcement kept me busy much of the day.
"Suffragette" seems like a very good candidate for Telluride's lineup. Even the LFF announcement yesterday could be seen as stoking the fire of its possibility. A number of the film outlets that I follow reported that the film's LFF screening will be its "European Premiere" (though at least one claimed it would be a "World" premiere...which makes a lot of difference).
If it is the "European" premiere, that implies a number of things...that it will NOT have played Venice but that it will have "World" and "Internationally" premiered other places prior to its bow in London on Oct. 7. We can infer then that it is almost certain to play Telluride and/or New York and Toronto seems a given.
Additionally, I'd point out that last year's LFF opener was "The Imitation Game" which managed to first be seen in Telluride.
Another note, director Sarah Gavron's "Brick Lane" (her last feature) played Telluride in 2007 complete with her appearance.
"Suffragette" was also produced, in part, by Pathe' and Film4, both of which have had their share of films play Telluride Pathe' most recently last year with the sneak inclusion of "Escobar: Paradise Lost" and Film4 was a part of the "Mr. Turner" production group).
All of that would likely make you think it's a 90% certainty to play...ummm...nope.
"Suffragette" is being distributed in the U.S. by Focus Features (Gavron's "Brick Lane" was distributed by Sony Pictures Classics) and their T-ride footprint has been smallish. Here's their Telluride list from the past dozen years:
2003: Lost in Translation
2004: The Motorcycle Diaries
2005: Brokeback Mountain
2006: Catch a Fire
2012: Hyde Park on Hudson
So, though I personally would love to see this film make the Telluride lineup...let's not count on it.
Here's the new trailer:
"Suffragette" Trailer via YouTube
And a good deal of the coverage tat accompanied the announcement and the trailer drop yesterday:
http://blogs.indiewire.com/theplaylist/watch-full-trailer-for-womens-rights-drama-suffragette-with-carey-mulligan-helena-bonham-carter-meryl-streep-more-20150603
http://www.firstshowing.net/2015/carey-mulligan-helena-bonham-carter-in-full-suffragette-trailer/
http://www.indiewire.com/article/watch-carey-mulligan-and-meryl-streep-in-powerful-suffragette-trailer-20150603
That's all for now..more tomorrow...
Follow Michael's Telluride Film Blog on Facebook:
https://www.facebook.com/pages/Michaels-Telluride-Film-Blog-and-The-Film-Awards-Clearinghouse/107846269309712
And on Twitter @Gort2