Good Thursday film fans...
Oscar nomination morning is a minuscule two weeks away...the anticipation mounts!
NEW OSCAR CATEGORIES GET THE FAC TREATMENT
As we get closer to the announcement of Oscar nominations, The FAC takes its first look at the animated feature race and a number of technical categories.
For the purpose of The FAC I gather data from the publicly posted predictions of the following:
Erik Anderson/Awards Watch
Clayton Davis/Awards Circuit
Scott Feinberg/The Hollywood Reporter
Peter Knegt/Indiewire
Joey Magidson/Hollywood News
Nathaniel Rogers/Film Experience
Sasha Stone/Awards Daily
Kristopher Tapley/Variety-InContention
Anne Thompson/Thompson on Hollywood
TFF #42 films are in
Bold
.
BEST ANIMATED FEATURE
1) Inside Out
2) Anomalisa
3) Shaun the Sheep
4) The Good Dinosaur
5) The Peanuts Movie
6) Kahlil Gibron's The Prophet
7) Minions
8) When Marnie Was There
9) Boy and the World
10) Home
Comment: "Inside Out" and "Anomalisa" are locks. It'll be interesting to see if the category goes a to five nominees all of which will be honored to be nominated in a year where "Inside Out" has the Oscar in a death grip.
BEST PRODUCTION DESIGN
1) The Danish Girl
2) Carol
3) Bridge of Spies
4) Mad Max: Fury Road
5) Star Wars: The Force Awakens
6) Cinderella
7) The Martian
8) Brooklyn
9) The Hateful Eight
10) The Revenant
Comment: A very, very competitive category.
BEST ORIGINAL SCORE
1) The Hateful Eight
2) Star Wars: The Force Awakens
3) Carol
4) The Danish Girl
5) Bridge of Spies
6) Spotlight
7) Inside Out
8) Steve Jobs
9) Sicario
10) Mad Max: Fury Road
Comment: The films' scores listed in the 4-7 positions are probably in a real fight for the last two spots in the category.
BEST SONG
1) 'Til It Happens to You/The Hunting Ground
2) See You Again/Furious 7
3) Simple Song #3/Youth
4) Love Me Like You Do/50 Shades of Grey
5) Writing's on the Wall/Spectre
6) Earned It/50 Shades of Grey
7) So Long/Concussion
8) Flashlight/Pitch Perfect 2
9) Feels Like Summer/Shaun the Sheep
10) I'll See You in My Dreams/I'll See You in My Dreams (tie)
10) Cold One/Rikki and the Flash
Comment: Try on these phrases...Oscar nominees "50 Shades of Grey" and/or "Furious 7". Looks like it could really happen. Maybe twice for "50 Shades".
BEST COSTUME DESIGN
1) Carol
2) The Danish Girl
3) Cinderella
4) Brooklyn
5) Mad Max: Fury Road
6) The Hateful Eight
7) The Revenant
8) The Crimson Peak
9) Suffragette
10) Trumbo
Comment: The top four spots seem relatively certain with a big scrum for the fifth nomination.
If The FAC is 100% accurate, Telluride films in these categories will earn fur nominations with another three possibilities.
LIKE I SAID ON MONDAY...HANEKE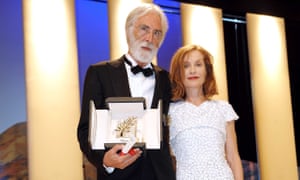 Michael Haneke and Isabelle Huppert at Cannes for "Amour" in 2012 (photo from Sipa Press/Rex Shutterstock and The Guardian)
Last Monday's post included a segment entitled "Ten Films that Could Be Telluride Bound". Included on that list was one film without a title and that was the percolating Michael Haneke project. Now, almost like magic, within the last couple of days, comes details of the new film including a title: " Happy End".
Considering the timing, I would expect that the completed film would be a likely entrant for Cannes in 2017 and, consequently, TFF #44. Here is coverage from The Guardian, Film Stage and The Playlist:
http://www.theguardian.com/film/2015/dec/30/michael-haneke-to-reunite-with-isabelle-huppert-for-calais-set-drama
http://thefilmstage.com/news/michael-haneke-reveals-next-film-happy-end-starring-isabelle-huppert-and-jean-louis-trintignant/
http://blogs.indiewire.com/theplaylist/michael-haneke-reteams-with-amour-duo-isabelle-huppert-jean-louis-trintignant-for-refugee-film-happy-end-20151230
OSCAR MATTERS: LATEST FEINBERG FORECAST
The Hollywood Reporter's Scott Feinberg has just updated his latest Oscar predictions. The nominations announcement is now just two weeks away. You can look at Scott's whole list here:
http://www.hollywoodreporter.com/awards/predictions/oscars/2015/academy-awards-122915/
If Feinberg is right, T-ride films are nominated as follows:
"Carol" (7): Best Film, Direction, Actress, Supporting Actress, Costume, Cinematography and Score.
"Spotlight" (6): Best Film, Direction, Supporting Actress, Original Screenplay, Score and Film Editing.
"Room" (4): Best Film, Actress, Adapted Screenplay and Production Design
"Steve Jobs" (3): Best Actor, Supporting Actress, Adapted Screenplay.
All other films from Telluride would be single nominated films:
"45 Years" Best Actress
"Beasts of No Nation" Best Supporting Actor
"Anomalisa" Best Animated Feature
"Son of Saul" Best Foreign Language Film
"Viva" Best Foreign Language Film
And from TFF #41:
"The Look of Silence" Best Documentary
"99 Homes" Best Supporting Actor.
Telluride totals would be 27 nominations (with two of those from TFF 2014).
More to come on Monday...HAPPY NEW YEAR EVERYONE!
Contact me at:
michael_speech@hotmail.com OR
mpgort@gmail.com OR
via Twitter @Gort2 OR to
Michael's Telluride Film Blog's Facebook page: https://www.facebook.com/pages/Michaels-Telluride-Film-Blog-and-The-Film-Awards-Clearinghouse/107846269309712